July 8th, 2013
I was thinking today, that's right, for once, at least once a week, I try to sit and just think. Oh, how I miss my 4 x 6 Camera and being in the Darkroom creating all day, the sound of the whirring fans, the smell of developing solution...would I have ever in my wildest dreams(and yes, I AM PROUDLY)aging myself, imagine that there would be something in my future called 'Digital Photography'...never.
I did not mind doing things the 'hard way', my only regret is that I have only slides and 4 x 6 prints and Black & White 8 x 10's thrown askew in boxes somewhere, a collection of 20 years as a Combat Photographer. Boxes that need investigating and hopefully I may have a contest winner or something really special, manipulating my Camera box manually I knew for real what 'Depth of Field' and "Contrast' meant.
I think however that I may take a lesson or two and really get into the nitty gritty of Digital Photography, at least to my knowledge, there is no risk to my health and the results ARE selling!
So, why is it that I never thought of actually 'selling' my Art & Photography until post retirement? I could have been making some big bucks, I stayed in the background I suppose until the fumes dissipated!
March 21st, 2013
Rejection is often hard to take in the art community, but there is a silver lining. An artist recently expressed her frustration at being turned down over and over again for a solo show of her work. She had submitted proposals to university and public galleries, and arts organizations with gallery space for more than a year. The artist failed to realize that her work in her successful show related to a highly charged topic, and one that would appeal to many gallery visitors, while her current work doesn't connect with people emotionally. Difficult call, but we must paint for our specific audience!
November 25th, 2012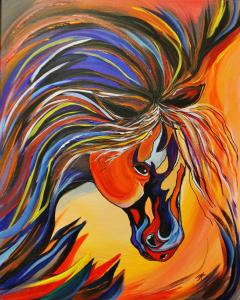 I have been an 'Artist'since the age of five, which takes me back to 1960. Folks hung only Landscapes over their fireplaces and above their beds and desks...I was taught in one medium, Oil, but have branched out over the years to include, Acrylic, Mixed Media, Charcoal & Graphite, as well as Colored Pencil. Yes, I can paint a killer Landscape, Ocean Scenes, Nature...but it seems this new Art World I find myself in demands bolder color's. I've always described myself as a 'Bold Colorist'...but in the genre of Landscapes, Skies and Scenes...This year I will be painting my bold and colorful Spirit onto Canvas via more Objects, Animals, with more Energy and Palette effects! Thank you for viewing my Fine Art America site and enjoy my future piece's I will be adding, Remember to also take a look at my Photography! 'Like' me on facebook; HeadWest Art & Photography.